P

Pheonec Co., Ltd.
Pheonec Co., Ltd. The development of applications and websites in a variety of applications. Established in the development of both domestic and abroad. We have after-sales care. We appreciate all of the feedback of the customers. And will be updated and amended. In order to meet all the requirements to achieve the perfect level.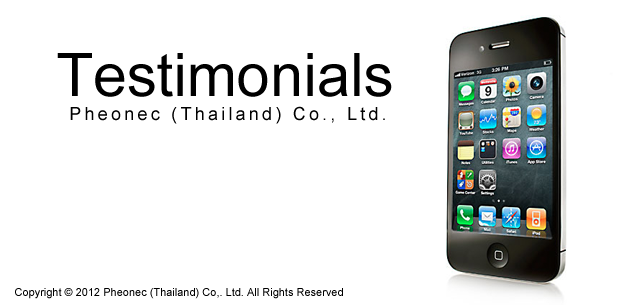 "Pheonec is GREAT!!!!!! very quick and creative, I just told him why I wanted a website, what I did and he went from there."
"Thank you so much again for such a fantastic web site. I am thrilled with it and will definitely be recommending you to people I know. Thank you for also being so patient with me."
"My site took only a few days! With Reasonable rates, What a great person to work with! Thanks so much and I know I'll not only refer my friends but will use you again."
---
1

Series 8 Version 2.0
Good quality of video also It can be downloaded and watch again later. In love with this app.
2

Grandprix Channel Application
If you love Automobile. Don't forget "Grand prix channel" We have more variety programs such as Technique, Documentary, Edutainment, Motorsport much more. Please "Drive your life" with us